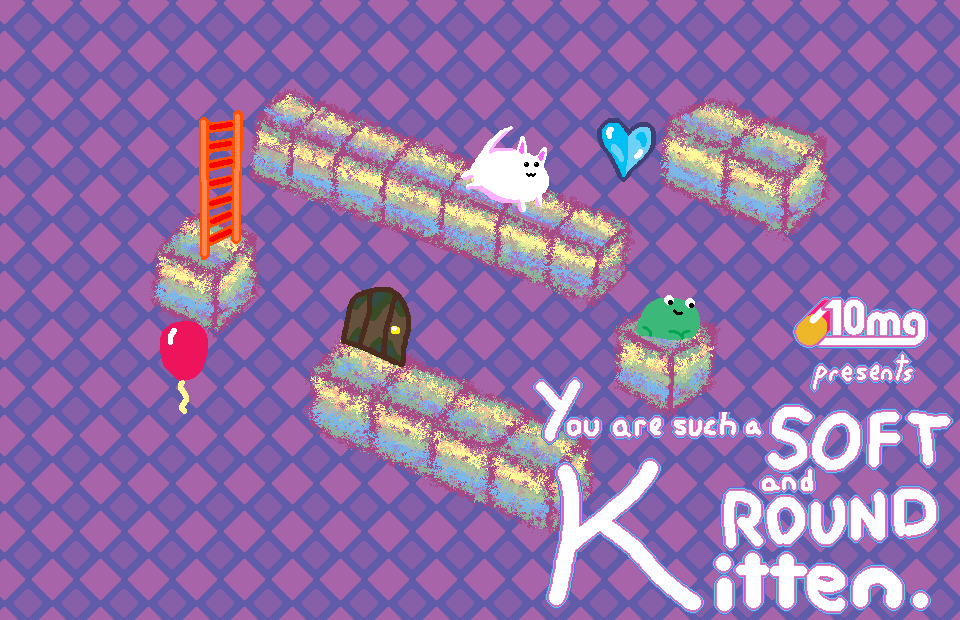 10mg: You are such a Soft and Round Kitten.
10mg is a collection of 10 minute long games.
You are such a Soft and Round Kitten is about a curious kitten. You are so curious, soft, and round, why don't you play and see what you find?
Greetings. This is the world that a kitten can enter. Time to become a kitten. Your only goal is to be soft and round. Relax your vestigial human body. You can feel your hands grotesquely morphing. They are becoming fluffy paws. Yes, you have a sensation of a tail sprouting violently from your. It is getting longer and longer. You have completely become round and can no longer walk on two legs. Try speaking. What's that? I can't understand you. I only hear a kitten's meow. You are completely a kitten. Become a kitten forever because that's your only purpose. You are no longer human. Make sure you are ready for this to happen to you.
The web version of this game has become free as of 2021/12/31. The downloadable version is still paid, mainly because it'd be inconvenient to make it free (I would have to manually contact Steam to make the Steam release free, and making it free might mess up something about the paid 10mg bundles).
There are no significant differences between the web and downloadable versions. Only buy the downloadable version if you want to support Sylvie.

STEAM: You will get a Steam key with your purchase of the downloadable version.
OST: Pay an extra dollar, and you will get the Ost (Original sound track) for the game.

Purchase
In order to download this game you must purchase it at or above the minimum price of $2.99 USD. Your purchase comes with a Steam key. You will get access to the following files:
YasaSaRK Ost ~ Kittens Meow (Music)
6 MB
if you pay $3.99 USD or more
YasaSaRK Ost ~ Kittens Meow (Music, High Quality)
27 MB
if you pay $3.99 USD or more
Comments
Log in with itch.io to leave a comment.
Very cute and easy to play game. Love the ending song!
Hey Sylvie, did you know you can complete "Cat Planet" all the way to the second-to-last screen without ever using the right arrow key? Try it!

I enjoyed going to all the places. I also enjoyed the cute little beat that happens if you keep navigating the tab menu.
Small, weird and interesting game. I think that describes it the best.
Took me 12 minutes to solve, but that includes the 90 seconds wait time from the start. So I would say you have met the goal very well for the 10mg collection.
The only thing that I didn't understand was the hearts. Should I be able to collect them? Is there some hidden mechanic?
I AM BECOME SOFT AND ROUND
Wowza. Was not expecting this. Certainly difficult to explain the style and gameplay, but I LOVED IT. A++
Its the last game I play in my video, starts at 20:20
"huh" is how I'd describe this game, in the best possible way.